Does your Age of Empires II Definitive Edition crash and give you this error message "Age of Empires II Definitive Edition encountered a problem"? it's caused by an incompatible, old, or corrupt mod(s).
Solution
There are two ways to fix this problem (using my tool Mods Status Updater):
Delete all mods. This is a more drastic solution, but it will definitely fix the problem.
Unsubscribe to all mods to rule out any incompatible mod
Deleting All Mods
To delete all mods, just follow these steps:
Download Mods Status Updater
Open Mod Status Updater.
Check "Delete Mods (All Profiles)".
Done! All your mods are deleted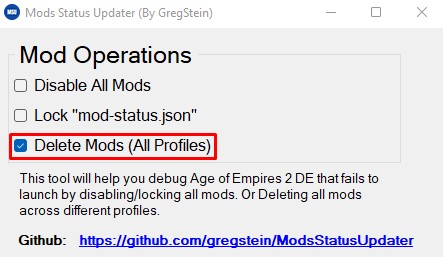 This will delete all mods from your computer. Once the mods are deleted, try to start Age of Empires II Definitive Edition. The problem should be fixed now.
How to unsubscribe to Mods without opening the game
Login to ageofempires.com and access https://www.ageofempires.com/mods/subscribed/. By unsubscribing to any mod, AoE2 DE will no longer try to download back mods you are not subscribed to. This will help you greatly if a particular mod keeps getting downloaded and crashes your game.
Conclusion
Hopefully, this article has helped you fix the "Encountered a Problem" error in Age of Empires II Definitive Edition. If you have any other questions, please feel free to leave a comment below.