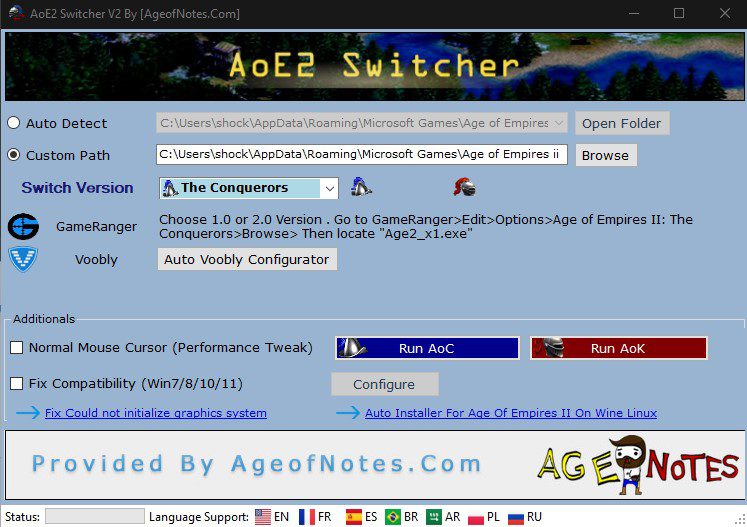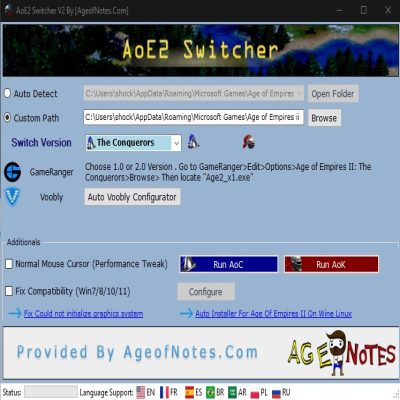 Version

2.0

Download

3228

File Size

15.0 MB

File Count

1

Create Date

January 14, 2022

Last Updated

February 20, 2022
AoE2 Switcher
AoE2 Switcher lets you switch to any version of Age of Empires 2 supporting both expansions Age of Kings, The Conquerors. Besides additional features such as: Normal Mouse Cursor; Latest Compatibility Fix on Windows 7, 8, 10 and 11; Fix for Could not initialize graphics system.
This tool has the ability to automatically detect your game installation or multiple game installations one as long as you have run any age of empires 2 version recently or set a custom game installation.
Features List
Auto detection of your game installation.
AoC versions supported: 1.0, 1.0c ,1.0e ,1.4 ,1.5.
AoK versions supported: 2.0, 2.0a,2.0b.
Remembers changes you made to the settings.
GameRanger Support.
Voobly Support.
Normal Mouse Cursor (Performance Tweak).
Better Compatibility Fix on Windows 7/8/10/11.
Language Support (EN, FR, BR, ES, PL, RU, AR)
Run AoC & AoK from the app
How To Use?
Extract "AoE2-Switcher-V2.zip" anywhere on your computer
Open folder "AoE2 Switcher" then run AoE2 Switcher.exe
Attached Files
Screenshots