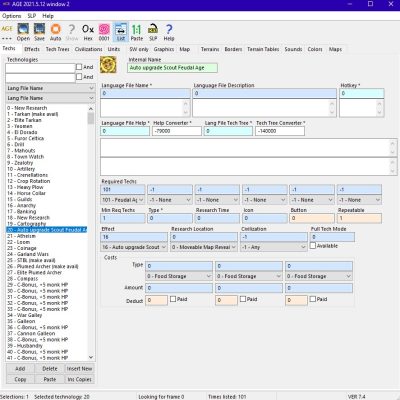 Version

2021.10.24

Download

3580

File Size

3.62 MB

File Count

1

Create Date

December 31, 2021

Last Updated

December 31, 2021
Advanced Genie Editor
a free software for for editing .dat and .dll files from Age of empires 2 Conquerors, Kings, Forgotten, Definitive and other expansions in the same series. Advanced Genie Editor lets you create, edit or delete properties of units, civilizations, technologies, graphics, terrains, sounds, player colors and so on.
Tips
You can have multiple search entries separated with "|" letter.
Upper search boxes are inclusive and lower ones exclusive.
Example: "tower|ship|ram"
Use the check boxes to toggle matching between all and any entries.
Developers
Mikko "Tapsa" P
Apre - genieutils
Estien Nifo aka StSB77
Credits
Ykkrosh
Scenario_t_c
Alexandra "Taichi San"
DarkRain654
DiGiT, JustTesting1234
Cysion, Kris, Sarthos
Tevious
Grenadier (RvA)
withmorten
BF_Tanks
Donnieboy, Sarn, chab
gagman
Attached Files
| File | Action |
| --- | --- |
| Advanced-Genie-Editor-2021-10-24.zip | Download |
Screenshots