Ameublement Concept Confort: Canada's Premier Choice for Luxury Furniture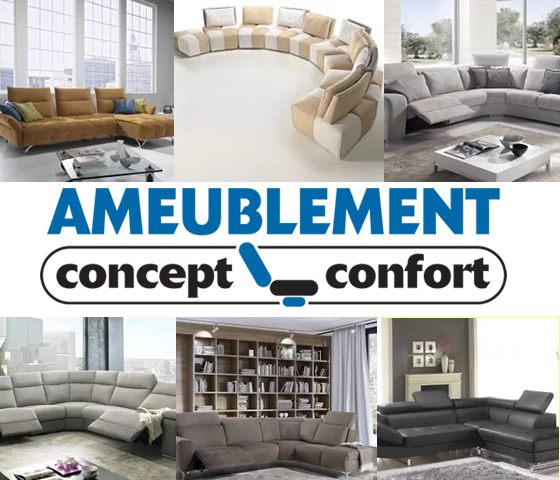 Since its establishment in 2014, Ameublement Concept Confort has emerged as the undisputed leader in the sale of high-end living room furniture. Their unwavering commitment to quality, customer service, and after-sales support has set them apart in the industry and expanded their offerings to include a range of products such as sofas, couches, armchairs, and more.
Mission: Becoming a benchmark for high-end furniture by consistently exceeding customer expectations.
Unparalleled Shopping Experience
Experience the world through the meticulously selected furniture offerings from Ameublement Concept Confort. Each piece is carefully chosen to provide their customers with an unmatched shopping experience. Their collection of high-end sofas, couches, armchairs, and loveseats stands out for their superior design and unparalleled comfort. Additionally, Ameublement Concept Confort also offers a range of hybrid mattresses to ensure a sleep experience that meets your highest expectations.
Uncompromising Commitment to Quality
Ameublement Concept Confort's commitment to quality is unwavering. Their furniture is crafted by industry-leading professionals with meticulous attention to detail, ensuring durable pieces that represent an excellent investment.
Excellence in Customer Service
By choosing Ameublement Concept Confort, you are opting for excellence. The company goes above and beyond to ensure that your shopping experience meets your highest expectations. Their dedicated team is there to guide and advise you throughout the purchasing process, helping you find furniture that perfectly matches your style and needs.
Explore the Range of High-End Furniture
To discover their full range of high-end furniture and enjoy an exceptional shopping experience, visit their shop at Concept Confort Shop. You will find an inspiring selection of superior quality furniture designed to transform your living space into a haven of comfort and refinement.
Among Concept Confort's best-selling furniture pieces:

Mody: a sectional furniture will please everyone. It offers absolute comfort with the relax position triggered electrically at both ends. Note that the folders are removable. MODY will charm you.

Québec: An official furniture designed in Quebec expressly for you. Its comfort is durable and includes adaptable seats as well as convertible mechanics. The side electric release allows the chair to relax.You can easily try this model at our provincial exhibitions.
Concept Confort Social Accounts
Below are the official social media accounts for ConceptConfort, where you can reach out to their support team or inquire about any questions you may have:
Conclusion
Do not hesitate to contact Ameublement Concept Confort for any additional information or to benefit from their expertise. Their team is delighted to assist you in finding furniture that meets your needs and provide personalized, excellent service.
Ameublement Concept Confort is your preferred partner for high-end furniture that combines quality, comfort, and design.